Tenderhut group was classified as 13th among 21 Polish companies in the Deloitte Technology Fast 50. This ranking includes top innovative enterprises from middle Europe showing rapid growth. We are pleased to inform, that this is not the first honorable mention for Bialystok's programmers this year.
Deloitte Technology Fast 50
ranking presents the fastest developing companies in central and eastern Europe in accordance to income growth over the last 4 years. The criteria in the main category were: activity on the market for the last 4 years, achieving income over 50 thousand euro in the 2012-2015 period. We achieved income growth of 389% (from 1,14 million PLN in 2012 to 5,57 million PLN in 2015). This result allowed us to take 38th place in the whole ranking and 13th within Polish companies.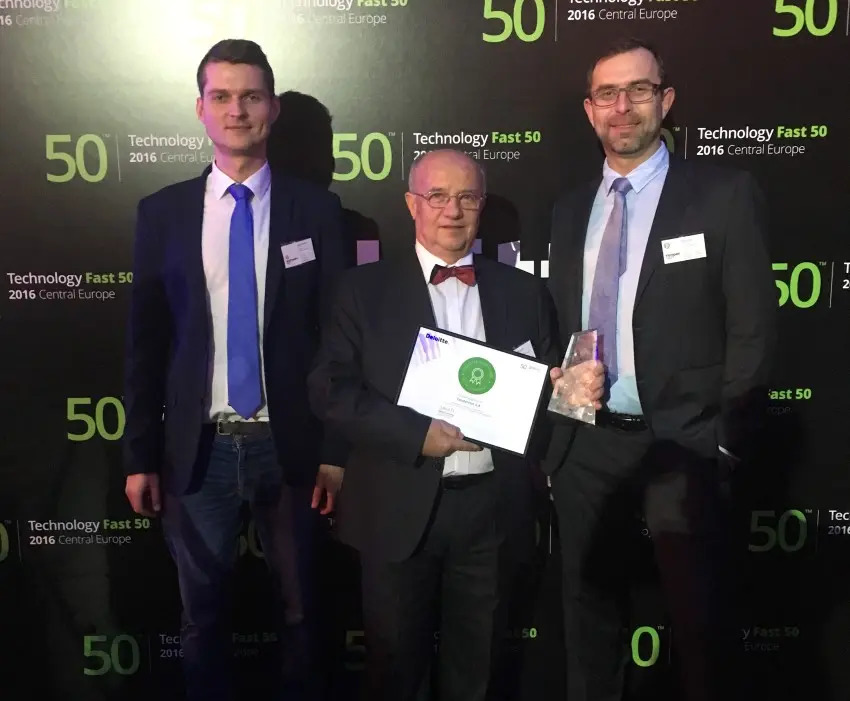 SoftwareHut and TendetHut – a part of Bialystok IT ecosystem.
In June 2015, SoftwareHut was established within the TenderHut Group. In early 2016 SoftwareHut grew by joining forces with
LemonTea
– also from Bialystok, which specialized in providing frontend technologies for companies from UK, DE and USA. SoftwareHut is currently the largest and most known company within the TenderHut Group. The company employs students and graduates of the
Bialystok Technical University
and the
University of Bialystok
. SoftwareHut employees co-organized the
Programistok
conference, also they actively participate in local IT communities:
Bialystok .NET Group
,
meet.js Bialystok
and
BiałQA
.
"The potential of companies from the IT industry has reached the critical mass point. Now it is time for the next stage of developing our regional "Silicon Primeval Forest" - the stage of utilizing the synergy of minor companies to achieve a joint and more rapid growth within one larger entity. TenderHut and their achievement is a great example of synergy in the regional ecosystem of IT companies. As our region quickly proceeds through the ,,Silicon Valley path'', we are one step away from achieving the next step – the open innovation phase, where companies such as TenderHut will invest in regional startups."
says
Jolanta Koszelew
, Innovation Broker, Bialystok Technical University, President of the
Technotalenty Foundation
.
"Bialystok starts to become a large IT development center, providing not only services but also creating high-quality products. More and more of large companies occur on the market. Thanks to many activities for the programmer community, a large number of specialists decide to remain in our city. We have several dynamic organizations gathered around certain technologies and programing languages. The communities within the groups organize regular conferences in Bialystok, where knowledge and experience can be transferred."
said
Paweł Tadejko
, Head of
post-graduate studies
on the
IT Department
of the
Bialystok Technical University
.
"Entire IT companies, not only development departments, move to Bialystok. A great example is the TenderHut Group, honorably mentioned by Deloitte, which invests in developing and increasing the dynamic of Bialystok's programmer community. Such activities are needed. The IT department of Bialystok Technical University contributes to this goal as well, through close cooperation with many companies. Our students highly value the possibility of participating in professional practices, which are organized by IT companies, i.e. SoftwareHut."
added
Paweł Tadejko
.
Year of success for TenderHut in the IT industry
TenderHut was awarded with a honorable mention in the Computerworld TOP 200 – the most prestigious IT industry ranking in Poland. It only included companies which achieved at least PLN 1 million income from selling IT solutions. The company from Bialystok was of course included, with PLN 6,44 million of consolidated income. TenderHut was the 3rd fastest developing IT company and the 20th IT outsourcing provider according to Computerworld TOP 200.
TenderHut Group
includes 3 cooperating companies of the IT industry. We as
SoftwareHut
specializes in designing, adapting and developing IT systems (web portals, mobile applications, dedicated systems and many others). We also offers IT specialist outsourcing.
Solution4Labs
offers implementation and customization of LIMS class systems to satisfy individual needs of laboratories.
LegalHut
offers legal advice, substantial public procurement and tender procedures in the area of IT services and products.