Examples of eHealth solutions helping patients and people monitoring their health regularly are growingly popular. 
This is a good sign from the tech companies and startups, which are now tackling one of the most pressing challenges—ageing societies. Applying technology to fight, treat and prevent medical conditions is also one of its most notable applications. 
Sweden is a good example of a country supporting eHealth development, offering programmes for companies that aim to create healthcare solutions for the digital age we live in. Vision for eHealth 2025 is the government's way to include healthcare digitisation in their long-term strategy. 
And the plans are bold:
"Sweden will be best in the world at using the opportunities offered by digitisation and eHealth to make it easier for people to achieve good and equal health and welfare" —as we can read on the Vision's website. 
Why this matter, is that we're now facing the shift in our societies' demographics, with a growing number of seniors. This will, in the long run, impact fiscal costs linked to pensions, health care and long-term care. 
Will healthcare digitisation solve some of these issues? In this article, I examine examples of eHealth to get the answer to this question. 
What is eHealth - Types and Definitions 
eHealth—or e-health—refers to applying digital technology into healthcare practice. eHealth may range from using the Internet to provide healthcare services to IoT devices and mobile apps. 
Based on different approaches to eHealth, its types can include: 
Services provided via the Internet, like telemedicine. 

Electronic health record, including the use of IoT devices or the ones connected with smartphones via Bluetooth. 

Health monitoring and research via mobile applications also referred to as mHealth or m-health. 
As you will see in the examples of eHealth applications curated in this article, the lines are blurring. Different solutions apply more than one type of eHealth to solve various issues.
Examples of eHealth Solutions 
1. Find and book a specialist online with Vården.se
Vården.se is a platform that collects information regarding 19 000 licensed healthcare providers, covering all health categories, in Sweden. Users can sort, compare and book care providers on the website.
By presenting specific information about the services that each care provider offers, the users can make well-informed decisions about the care they choose for themselves.
Also, reviews on the site further aid users to choose the care provider with the best ratings.
2. Get online consultation with Doktor.se and KRY 
Doktor.se is a solution that tries to solve the problem of easy access to a specialist. With a limited number of doctors and nurses in medical centres, patients often have to wait for a medical consultation. With Doctor.se, they only have to download an Android or iOS app and get a free consultation online. 
Only if needed, a patient will be appointed to the physical location run by the company behind Doktor.se or to a specialist. The prescriptions can also be sent to the patient's house due to the cooperation between Doktor.se and a pharmacy chain Kronas Apotek.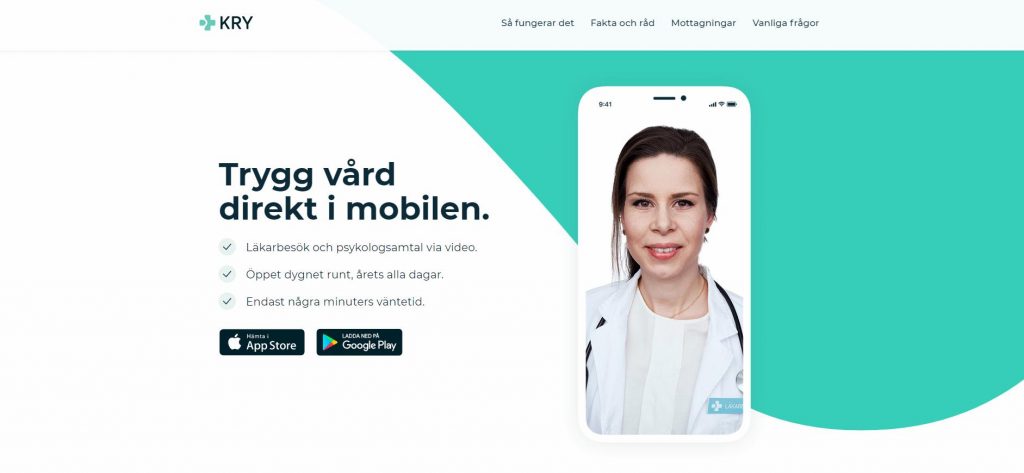 Another solution that provides similar possibilities is KRY, an app and a chain of 400 medical clinics. Similarly, to Doktor.se, it uses a mobile application for video support and consultation. When needed, a patient can be appointed to a specialist, get a prescription, and plan further treatment.
These solutions blend physical with digital, freeing up resources like patients' time, and specialists, so they can offer help where it's needed the most.
3. Feel better with Elsa
To help people with chronic diseases like rheumatoid arthritis (RA), Elsa helps users understand their habits. It shows how they impact the way people feel. Elsa is a mobile app that uses simple questionnaires, designed to monitor how treatment and person's actions impact their wellbeing.
With understandable and actionable data visualisation, the app then turns the answers into patterns. They help users change their behaviour and, eventually, live a healthier life.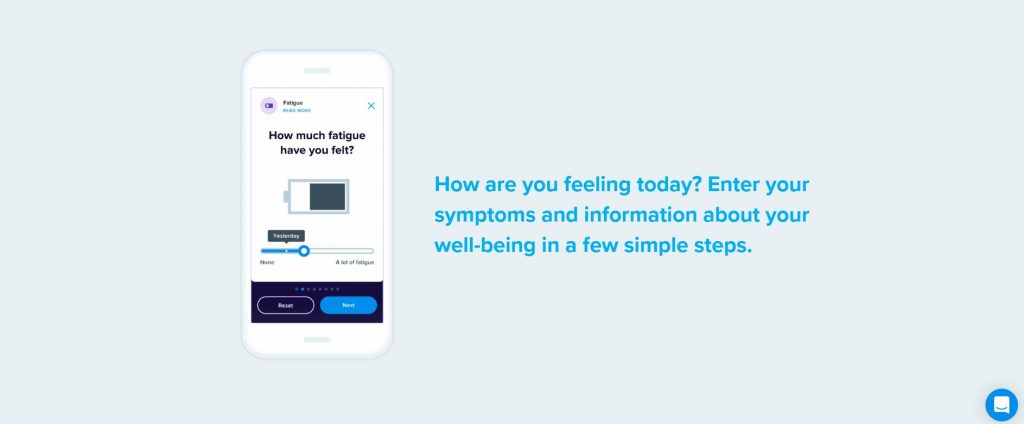 There's more, as scientists and researchers can then use the anonymised data (with the users' consent) to develop better treatment methods for people with chronic diseases.
4. Analyse your heart with Coala 
Another example of eHealth applications is a mobile app that connects with a wireless device.  
The Coala App was designed for real-time heart monitoring. It uses the data collected by the Coala Heart Monitor—a small ECG device capturing information about the heart rate. 
What's great about this solution is it makes monitoring heart rate easy all the time, anywhere. The ECG device is small and doesn't use any external wires. The information it gathers can be seen in the app or sent to a chosen healthcare provider. 
Summary 
eHealth solutions solve problems like quick access to a specialist, or early recognition of symptoms that should be addressed. They can help us recognise patterns in our lives that can impact how we behave and feel. 
Of course, many of these features can help ageing societies. They benefit people that require constant treatment and observation to lead more comfortable lives, while still receiving proper care. 
I'm sure that we will see more and more examples of eHealth applications in the following years.
Mobile App Development for Healthcare Provider